Deerfield Beach Car Accident Lawyer
Experienced Deerfield Beach Car Accident Lawyer Advocates for Injured Victims of Crashes in Broward County and Throughout Florida
Being involved in a serious car crash can upend your whole life in just a matter of seconds. You may suffer devastating injuries that leave you with permanent disabilities or disfigurement, along with substantial losses from medical bills and lost income when you cannot work. But you may not know where to begin to get the financial recovery you need after a car accident. A Deerfield Beach car accident lawyer from Feingold & Posner, P.A. can give you the guidance you need. 
With over three decades of collective legal experience, the attorneys of Feingold & Posner, P.A. use their knowledge and skill to vigorously advocate for the interests of injured accident victims. Our legal team does everything possible to make your legal case as easy as possible for you, offering the compassionate focus and individualized legal service you need during this difficult time in your life. 
When you have been injured in a car accident caused by a careless driver or some other party's negligence, you deserve to seek financial recovery for your losses. Turn to Feingold & Posner, P.A. for a free initial case evaluation to talk with a Deerfield Beach car accident lawyer about your legal options for securing compensation and justice for your injuries. 
What Are Some of the Most Common Causes of Car Accidents in Deerfield Beach?
Car accidents in Deerfield Beach can happen due to a wide range of reasons. Many causes of car crashes can be attributed to driver error or recklessness. Some of the most frequent causes of accident include:
Speeding, including driving too fast for road/weather/visibility conditions
Reckless driving, including excessive speeding, street racing, or weaving in and out of heavy traffic
Tailgating
Drowsy or fatigued driving
Driving under the influence of alcohol and/or drugs
Distracted driving, including distractions by cell phones, radio/climate controls, eating or drinking, or passengers
Failing to yield the right of way
Disregarding traffic controls, including running red lights or stop signs
Unsafe lane changes, including failing to signal or check mirrors
Illegal turns
Driver inexperience
Poor vehicle maintenance
Bad weather
Potholes, debris in the roadway, and other road hazards
Big thanks to Eric and Doug for doing a great job with the handing of my auto accident. I highly recommend them!
Recovering Compensation After a Car Crash in Deerfield Beach
After you have been injured in a car accident in Deerfield Beach, you may be entitled to pursue financial compensation for losses or expenses that you incurred due to injuries and damage from the accident. An award in a car accident claim can provide you with money for:
Car and property damage repair costs, or reimbursement for the value of your totaled car
Medical treatment and rehabilitation expenses, including hospital and surgery bills, doctor's appointments, physical/occupational therapy, and prescriptions
Long-term care expenses, such as home renovations to install disability accommodations, or hiring home health care services
Past, ongoing, and future loss of wages/income and employment benefits like pensions or health insurance when you cannot work due to injuries or resulting disability 
Physical pain and emotional distress
Lost quality of life due to physical disabilities or permanent, severe disfigurement interfering with your daily living
How Can a Deerfield Beach Car Accident Lawyer Assist You With Pursuing a Legal Claim for Financial Recovery?
If you have been seriously injured in a car accident in Deerfield Beach, you deserve to focus your time and energy on treating your injuries and making a recovery back towards regular life. It can be hard to also find the time to pursue your legal claims for compensation, especially when insurance companies try to throw up roadblocks to your claim. Let a Deerfield Beach car accident lawyer from Feingold & Posner, P.A. take the stress of your case off your shoulders by:
Investigating the crash to recover evidence we can use to build a persuasive claim on your behalf
Documenting your injuries and losses, including speaking with your treating providers and gathering your bills and income records to determine what kind of compensation you need
Taking the time to go over your legal options and what you can expect to occur during your car accident claim
Filing your claims with the insurance companies or against the at-fault driver or other parties to begin aggressively pursuing fair compensation for you in a negotiated settlement
Filing a lawsuit in your case if necessary to demand the financial recovery you deserve in court or at trial
Contact Feingold & Posner, P.A. for a Free Case Review to Discuss Your Options with Our Deerfield Beach Car Accident Lawyer
After a car accident, you may be faced with significant financial and personal losses. Don't put off starting a claim for the compensation you need and deserve. Contact our firm today for a free, no-obligation consultation to go over how a Deerfield Beach car accident lawyer from our legal team can make the claims process as smooth and stress-free as possible for you. 
About Deerfield Beach, FL
Deerfield Beach is a city located in Broward County, Florida, on the Atlantic coastline along Broward County's northern border with Palm Beach County. Deerfield Beach began with a small settlement that was established in 1890 called Hillsborough. Present-day Deerfield Beach got its name from the deer who grazed along the banks of the nearby Hillsboro River. Deerfield Beach experienced initial population growth from the construction of the Florida East Coast Railway in the early 20th century, with the town formally changing its name to Deerfield Beach in 1951 to advertise its position on the coastline. Today, Deerfield Beach is a suburban community with a diversified economy serving the tourism, distribution, and office industry sectors.
Frequently Asked Questions about Car Accidents in Deerfield Beach
FAQ: How long do I have to file a lawsuit after a car accident?
Under Florida's statute of limitations, you normally have only four years from the date of a car accident to file a lawsuit against the driver responsible for the crash or another party liable for your injuries and losses. If you wait until after the statute of limitations expires to file suit, your case will likely be dismissed as untimely and you will lose your rights to compensation for your injuries and losses.
FAQ: Can I still recover compensation if I was partially at fault for the car accident?
Yes. Florida's comparative fault rule states that you are not barred from pursuing a claim to compensation for injuries you suffered in a car accident even if you share responsibility for causing the crash. However, you will also be held responsible for the portion of your losses from your injuries that correspond to your share of fault for the accident. For example, if you would have recovered $100,000 for a car accident that you were 40 percent at fault for, your compensation can be reduced by $40,000 to reflect your share of fault for causing the crash.
FAQ: Can I sue the other driver for the injuries and losses I suffered in a car accident?
Florida is considered a "no-fault" state for car accidents. This means that drivers in Florida are required to carry car insurance policies that include personal injury protection coverage. PIP coverage helps pay for economic losses from injuries suffered in a car accident regardless of who was at fault for the accident. The no-fault law requires you to first look to your own insurance provider for coverage for your economic losses. You can file a lawsuit if you have economic losses that exceed the limits of your PIP coverage, or you can recover non-economic losses if you have sustained severe, permanent debilitating or disfiguring injuries. At Feingold & Posner, P.A., we can help you better understand your options for seeking full financial recovery after a car crash.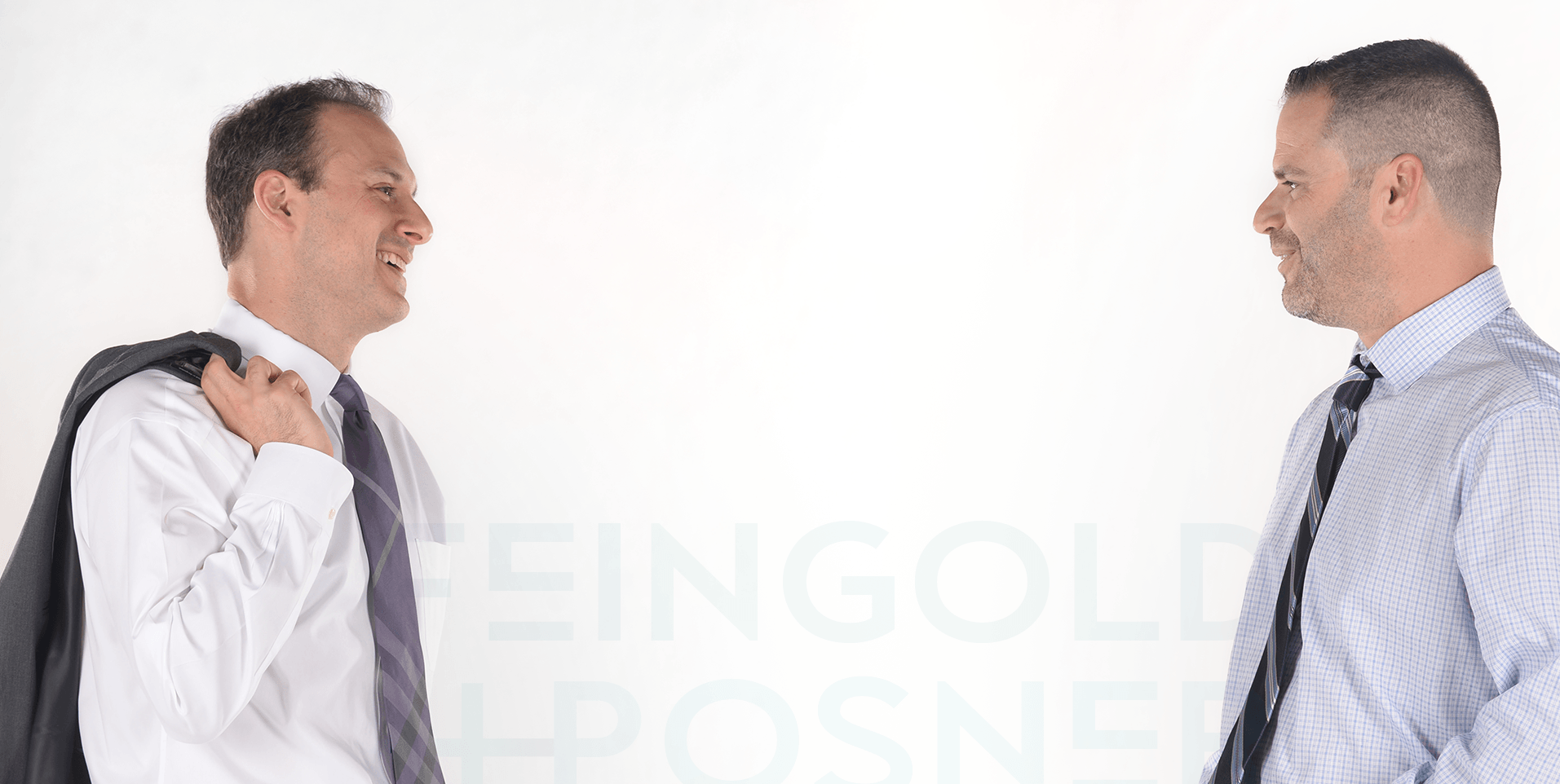 "These lawyers are not only very efficient, but caring as well. I would not hesitate to refer them to anyone."
MATTHEW T. / FORMER CLIENT