Plantation Car Accident Lawyer
Skilled Plantation Car Accident Attorneys Secure Compensation for Clients Throughout Florida
Plantation has a reputation for a high frequency of car accidents. Vehicular accidents leading to injuries or death in this area disproportionately occur relative to the rest of Florida, except for Miami-Dade. As a driver traversing this area, you have to take care of all of the inherent dangers in the Plantation area, as the frequency of car accidents here is immense. If you suffered injuries in a car accident in South Florida, you want the help of a Plantation car accident lawyer from Feingold & Posner Accident Injury Lawyers right away. CONTACT us for a free non-committal consultation.
Causes of Unsafe Driving Conditions
With tourists, international drivers unaccustomed to American roads, and spring breakers who hit the town to party, traffic risks in Plantation are glaringly obvious. Population growth and density in the area in combination with poorly designed infrastructure in respect to the roads and highways in the area, combined with so many tourists, could be the reason the area holds so many dangers to drivers.
Population increases from tourism in the winter lead to more people on the roads and more accidents. Bearing this information in mind, it is not surprising to learn that the total reported injury crashes are highest in September through April and lowest in June through August. Clearly, the trend of more accidents coincides with when more individuals are on the road. According to Signal Four Analytics at the University of Florida, crashes commonly occur Fridays from 2 p.m. to 8 p.m.
Other notable trends include:
65 percent of accidents occur during the day.
89 percent of accidents occur on dry roads.
82 percent of accidents occur on non-intersections, with 17 percent occurring in intersections.
One in 15 pedestrian crashes resulted in death.
One in 41 bike crashes resulted in death.
One in 304 car crashes resulted in death.
Intersections in the area surrounding Plantation are a major concern, as they are the location of dozens of accidents each year. One of the most dangerous intersections, A1A and Las Olas Blvd., was the site of more than 1,000 injury-related accidents in one year. Another would be Atlantic Blvd. and U.S. 1, which was the site of more than 6,000 accidents, according to Florida's Integrated Report Exchange System.
Big thanks to Eric and Doug for doing a great job with the handing of my auto accident. I highly recommend them!
The Shocking Plantation-area Car Accident Statistics
According to the Florida Department of Highway Safety & Motor Vehicles, more than 34,833 accidents occurred in Broward County in a single year.
In fact, Broward County, home of Plantation, is one of the most populated counties in Florida, which likely contributes to the substantial number of car accidents here relative to other counties.
Although statistics show this may be improving due to initiatives by the city to create safer driving environments, the dangers of driving in the Plantation area remain disproportionate to other cities and counties in Florida.
The program uses a combination of engineering strategies to create safer environments for driving, biking, and walking, education and encouragement to promote best practices for safely using the streets, enforcement to encourage motorists to obey traffic laws, and evaluations to collect data on the successes of these strategies. Vision Zero was implemented in 2015 and based on recent data, traffic fatalities already decreased.
However, there is still a long way to go before the Plantation area leaves the lists of the country's most dangerous places for car accidents.
The Value of An Experienced Plantation Car Accident Attorney
If you suffer injuries in a car accident in the Plantation area, you need an experienced car accident attorney at your side to represent you. The Plantation-based attorneys at Feingold & Posner Accident Injury Lawyers are ready to assist you in seeking the compensation you deserve from negligent parties.
An experienced accident injury firm like ours not only offers the best representation to handle your case but offers a payment agreement that's reasonable for an individual dealing with medical costs and other expenses from their accident and injury. Instead of charging a retainer fee or billing hourly, our firm works on a contingency fee basis, which means we don't receive fees unless we successfully resolve your claim and you receive compensation for your injuries.
After successfully resolving your case, all our legal fees will come out of your settlement money as a percentage, so we don't receive anything from your own pocket. This means that any car accident victim can afford representation from a Plantation car accident lawyer. Contact Feingold & Posner today either online or by calling 954-807-4665 today.
Plantation Car Accident FAQs
What Are Some Risk Factors on Roads Near Plantation?
Every roadway presents unique challenges for drivers. The biggest one is that you cannot control what another driver does behind the wheel. Here are some of the dangers of these roads:
— The long stretches of straightaway roads that can dull drivers' reflexes
— Motorists may think that the police will not catch them when they drive aggressively on more isolated roads.
— Drivers may not be ready for the switch to more congested traffic as desert roads approach the cities.
— There is more of a tendency to drive distracted when you are on a long stretch of seemingly straight highway.
— There are plenty of trucks on these roads, making deliveries throughout South Florida.
Why Is Medical Care Critical Right After an Accident?
Even if you do not feel injured, it is always a good idea to get checked out after your accident. If you suffered injuries, you need a comprehensive diagnosis and treatment right after your accident. Aside from your own health issues, it can strengthen your legal case when you have your injuries diagnosed and documented extensively right after your accident.

The insurance company is always going to be looking for an excuse to pay you less or not pay you at all. One thing they may raise is that your injuries did not come from your car accident. The longer you wait after an accident, the more it gives them the opening to challenge your injuries. In addition, you also need detailed documentation of your injuries to leave little doubt about the extent of the damage. You would present this with your compensation claim.
How Long Do I Have to File a Lawsuit for a Car Crash in Plantation?
You must pay close attention to the statute of limitations for personal injury cases. If you miss it, you will lose the right to file a lawsuit completely. The court takes this time limit very seriously, and there is zero margin for error. Even missing this deadline by a day will pose a serious problem, and there are very few exceptions that would cause the court to allow a late filing.

The statute of limitations for personal injury cases in Florida is four years. However, you should not take all of that time to get the process started. You should have a lawyer well before then because it takes time to investigate and prepare your case. You will also want to allow some time for negotiation with the insurance company before you file a lawsuit.
How Much Is My Car Accident Case Worth?
Again, this depends entirely on the damages you suffered. Your case could be worth tens of thousands of dollars or millions, depending on the severity. Usually, high settlement checks apply to the most serious cases. You have the right to receive payment for everything that you lost in the accident. This could include your health and your paycheck. Here are some of the elements of personal injury damages:
— Lost wages for time missed from work and a reduction in your earning capacity
— Pain and suffering
— Medical costs
— Emotional distress
— Wrongful death if your loved one passed away from their injuries
There are many damages that the average person may not be aware of that they can receive. If you do not fight for them, you will not get them. Plantation car accident attorneys know everything that you can include in your claim.
Doesn't the Insurance Company Have to Pay Me What I Deserve?
You have a legal right to receive full compensation for your accident injuries. The core concept of personal injury law is that someone else must pay you when their negligent actions harm you. However, the insurance company does not make this easy for you. They think that by making you fight for every penny, you may accept less and be grateful for it. Don't let that become your way of thinking. Be ready to fight the insurance company. At Feingold & Posner Accident Injury Lawyers, this is why we come to work every day. As a claimant, you must prepare for a difficult process to get your money. You may have to go to court to get what you deserve.
What Happens if I Have to File a Lawsuit?
Many cases settle at the claims stage, and claimants never become plaintiffs because they do not have to go to court. However, if the insurance company denies the claim, or they simply will not be reasonable in settlement negotiations, you may have no choice but to file a lawsuit. This can be a lengthy process that could take up to two years to unfold. However, it will not automatically result in a trial.

Your court case will begin when your Plantation auto accident lawyer files a legal complaint on your behalf, which sets out the facts and legal grounds. The longest stage of your case by far is the discovery phase. This is when the plaintiff and defendant get to request information from the other. You will likely have to sit for a deposition where you are asked questions for up to seven hours. Finally, you would have a trial in court in front of a jury.
Does Filing a Car Accident Lawsuit Guarantee a Trial?
No. While many people associate a court case with a courtroom trial, that is actually a rare outcome for a lawsuit. The overwhelming majority of cases settle before they reach a trial, even if you already filed the complaint. The defendant might approach you at some point with a settlement offer, or your Plantation car accident attorney may think it's best to start talking with the other side.

In any event, only five percent of personal injury cases make it all the way to trial. While we could never guarantee a settlement, it is the most likely outcome in your case. At Feingold & Posner Accident Injury Lawyers, we are fierce litigators who will fight for you until the very end of the case. If your case goes to a jury, we have experienced courtroom lawyers.
Will I Have the Money to Pay My Attorney?
Some people think that a Plantation car accident lawyer is out of their budget. They are worried about how they may get the money to hire a lawyer when they may not be earning anything because of their injuries. When it comes to hiring a lawyer, money concerns are not on the table.

You have probably seen tons of ads for car accident lawyers telling you that you owe nothing unless you win. This means that you do not need to write a check to a lawyer to hire them. Instead, you agree that they will receive a percentage of the proceeds if you receive compensation for your accident. If you do not receive payment, neither does your lawyer. You will not need to borrow money to hire an attorney. You just have to make a phone call and hire them.
Contact A Plantation Car Accident Lawyer Today
Feingold & Posner Accident Injury Lawyers
1380 N University Dr Suite 100,
Plantation, FL 33322
Phone: 954-807-4665
Online Form: Contact
Related Topics: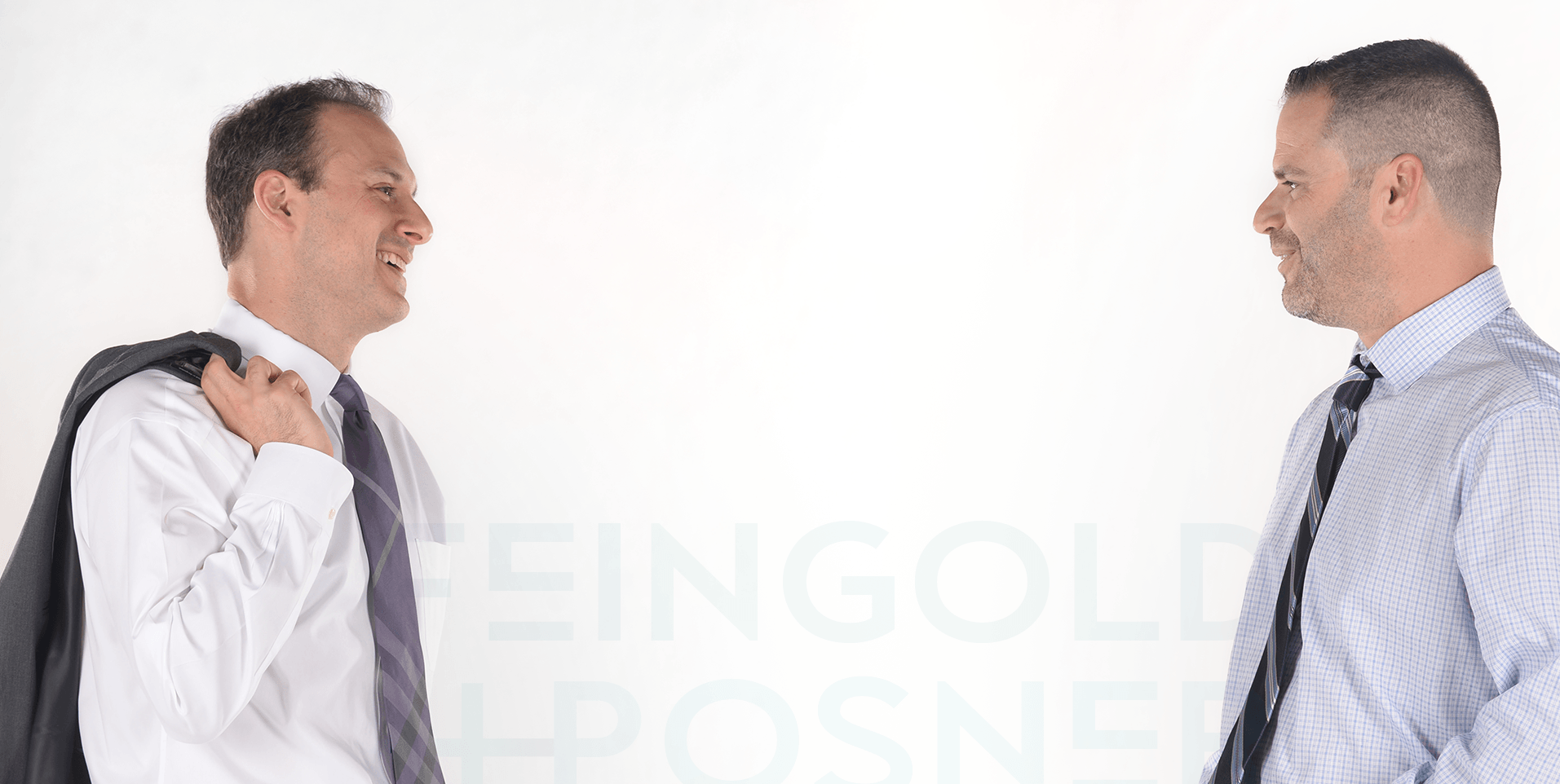 "These lawyers are not only very efficient, but caring as well. I would not hesitate to refer them to anyone."
MATTHEW T. / FORMER CLIENT