Fort Lauderdale Premises Liability Lawyer
Florida law protects you if you are injured on another person's property due to their negligence. It is the responsibility of the property owner to ensure that the grounds are safe and to make sure that they take the precautions necessary to prevent injuries to their visitors. If an owner fails to do so and you are injured on their property, you may be eligible to recover damages. A skilled Fort Lauderdale premises liability lawyer can help you get the compensation deserve.
Have you been injured on someone else's property? You could be entitled to compensation if the property owner acted negligently
Some of the necessary safeguards that need to be taken in an effort to prevent injury are making sure that none of these hazardous conditions are present on their premises:
Holes or excavations in the ground
Uneven ground
Broken concrete or floors
Iced walkways or puddles on the floor
Wet or slippery floors
Unsteady benches or chairs
Dangerous construction areas with nails or glass present
Objects subject to fall
Poor security
Any other hazardous conditions that they see as a potential risk
There are so many other things that can cause injuries but these are some of the most common hazardous objects and scenarios that have proven to cause injuries to visitors. The property owner is responsible for maintaining their premises and if they do not uphold safe conditions on their grounds they may be at risk for fault of an injury that took place on their premises. Learn what our Fort Lauderdale premises liability attorneys can do for your injury accident claim below.
How do I prove liability for my injuries?
Some of the common premises liability cases that people are generally able to receive compensation for are slip and fall accidents, falling object injuries, burn injuries, security hazard injuries, elevator accidents, and many others but proving liability in a case like this can be tricky so there are certain steps that you should take if you are injured on someone else's property, including:
Collect the names and contact information of witnesses
Determine the cause of the injury
Specify the object or substance that caused the injury
Take pictures of the area where the injury took place
Report all injuries
Take pictures of your injuries
Seek medical attention so there are records of injuries
Contact a Fort Lauderdale personal injury lawyer
Proving liability can be an intricate process but if you follow these steps after an injury takes place, an experienced attorney from Feingold & Posner, P.A. can assist you in fighting for justice in your case. Many property owners try to make an argument that they are protected because the object or action that caused the injury was open and obvious. There is something called the open and obvious doctrine and if this is exercised, receiving compensation for damages can be more difficult. In Florida, this doctrine can determine that the condition that caused an injury was open and obvious; in this case the owner would not be liable for the conditions that caused the injury. Fortunately, for this to be ruled in court the injury-causing condition would have to be extremely obvious and the courts to not usually use this doctrine because that is a subjective decision. This is just one example of an argument that a property owner can make to try to not be held liable for the dangerous conditions that they did not take care of on their property.
Personal injury attorneys Craig Posner and Eric Feingold are both excellent attorneys, but more importantly, they are excellent people. I have seen first hand their hard work and dedication to clients. I would not hesitate to recommend their services to others.
Recover Compensation for Your Injuries
Do not let them get away with their negligent actions, seek legal counsel from one of our personal injury lawyers to make sure you have the best possible opportunity of recovering damages in your premises liability case. Our lawyers will put forth as much effort and time necessary to fight to receive compensation for as many of the following things as possible:
Lost earnings
Reduced earning capacity
Ongoing care
Medical bills
Rehabilitation costs
Pain and suffering
Emotional damage
Depending on the unique situation and the injuries received, our attorneys can build a strong case for you and aggressively fight to gain reimbursements for your suffering.
Seek Help From a Fort Lauderdale Personal Injury Lawyer
Here at Feingold & Posner, P.A. we take pride in our relationships with our clients. We strive to make each client a priority and put forth the time and resources necessary to receive favorable results in their cases. We want to make the process as easy and stress-free as possible for our clients so we make sure to guide them through every step of their path to recovery. We also proudly offer a free initial consultation so you can call and ask questions and discuss your case with one of our Fort Lauderdale personal injury lawyers. On top of that, you do not have to pay unless we recover damages for you! Call a Fort Lauderdale personal injury lawyer from our firm today to see how we may be able to help you receive compensation for your injuries.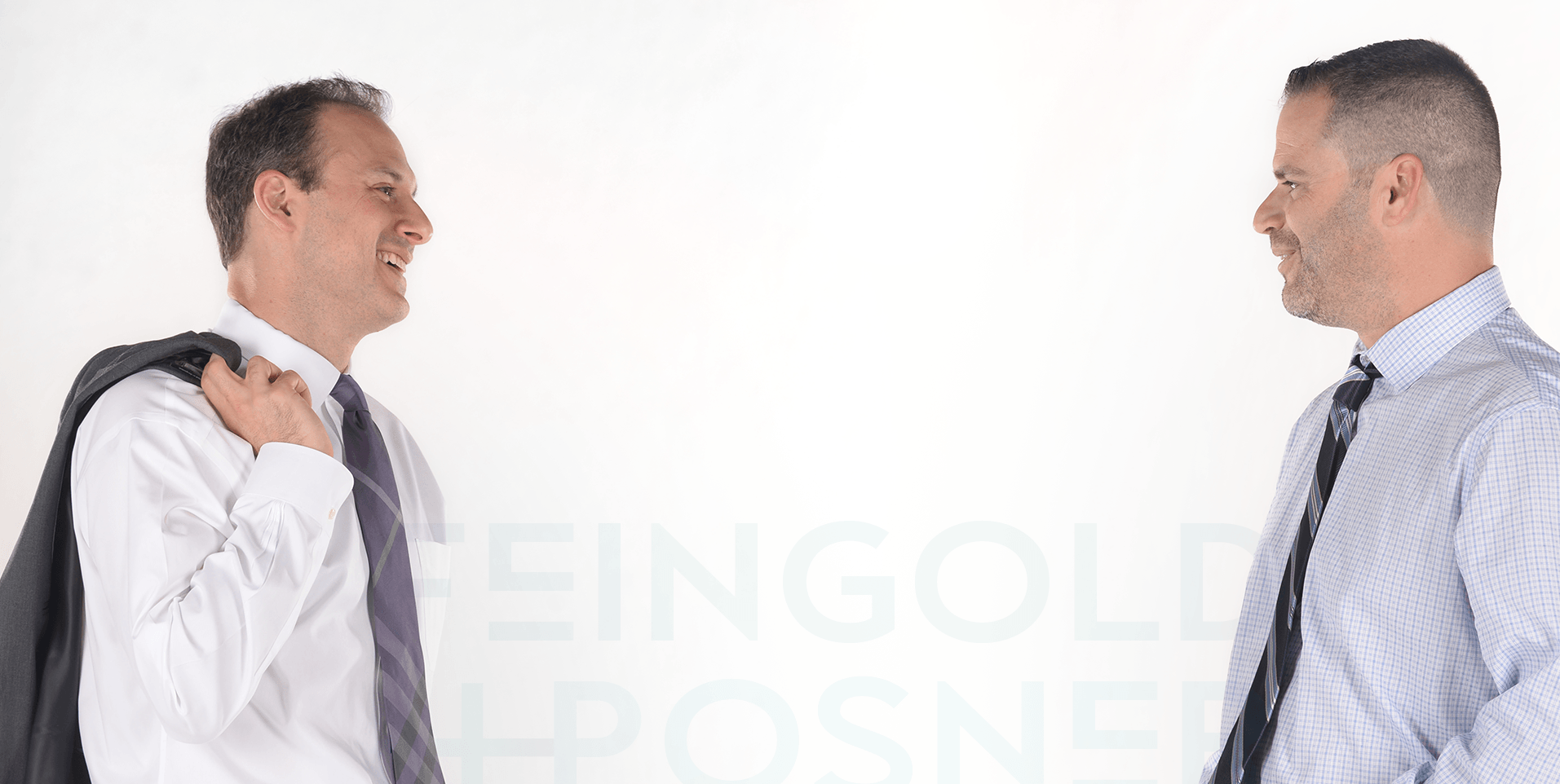 "These lawyers are not only very efficient, but caring as well. I would not hesitate to refer them to anyone."
MATTHEW T. / FORMER CLIENT